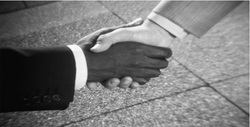 The Alternative to the Typical!
Resiliency does not have to be expensive, intrusive, distracting overhead, heavy on administration or light on everyday value. ARSC is committed to showing you that there is an Alternative way to assure your operation and enable life/safety for your people!



---
Legacy Consulting


Lots of analysis, reporting, and meetings... and lots of PowerPoint

The Alternative: ARSC


Activities and work are laser-focused on reducing your risk and strengthening your Resiliency. We know that your time is valuable

The "expert" controls how to apply their "comprehensive" (read "big and intrusive") methodology and "does it to the client" using "Tried and true" (read old-school legacy) approaches

The "expert" comes in for the sale and the review, but work is done by junior staff


The methodology is "get it done with minimal overhead and maximum utility". We work with you not do it to you. ARSC, as a thought leader and influencer at the 'tip of the spear' of the industry, ensures that your programs are cutting-edge and ready for tomorrow not built for yesterday

Seasoned practitioners with deep skills in Resiliency, executive facilitation and business acumen

| | |
| --- | --- |
| Long on frameworks and good ideas... short on direct accountability and "owning it" | ARSC's Managing Principal has had direct ownership and accountability for a global program protecting over 5,000 people in a dozen locations for almost eight years, and personally managed a number of crisis events. The program was proven in actual emergencies both during and after his tenure. Programs established as a consultant were also proven in multiple events |
| | |
| --- | --- |
| Making money by telling clients what they want to hear | Straightforward advice and guidance. ARSC will tell you like it is... what's wrong, what's right, what's good enough and what's a must-do... diplomatically but directly. If you do not want frank and candid partnership, please look elsewhere for your needs |
| | |
| --- | --- |
| Focused on the next phase... the next phase... and the fees | At ARSC, we realize it's about the value to you not the fees to us. We will deliver... then say "until next time". If we've added value we know you'll ask us back. Recurring arrangements, subscription models (see our Managed Services) and fractional management are also possibilities |
| | |
| --- | --- |
| Consultants are not paid to say "I don't know" | ARSC is transparent and honest - we will say "I don't know" (but we'll find out for you). We will happily partner with other experts, or manage them for you, whatever you need to get the highest resiliency at the best value |
| | |
| --- | --- |
| Expensive, high-overhead software and tools | "Tool"? ARSC does not have a "tool". Materials are intuitive and produced with whatever you and your team are used to, so there is no 'learning curve'... especially when they really, really need to be used |
| | |
| --- | --- |
| Plans are voluminous documents in impressive "Code Red" binders because consultants are paid for what they produce | Plan material is crisp, ergonomic and usable under stress. It might consist of Emergency Wallet Cards, terse checklists, contact information synched to phones... but never in a binder. Your program will not only be Audit-able but Actionable! |
Exercises are typical sit-around-the-conference-table non-events: fun for the consultant but distracting to the staff and not relevant to the business


Exercises are valuable training and practice opportunities. They can range from interactive Plan Reviews to high-energy Table Top "practice on paper" against realistic scenarios to Functional Simulations to full Emergency Mock Events (a unique and differentiating way to practice "the Real Thing"). They can be high-impact or low-impact, but always high-engagement!

Seal Team 6 has a saying: "the more you sweat in training the less you'll bleed in battle." With ARSC, you won't sweat or bleed, but you will be prepared and confident - and so will your organization!